£134.95 inc VAT
£112.46 ex VAT
Add to basket
Available for 3-7 days delivery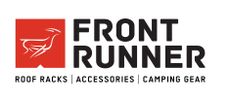 P/N: RRAC159 / JM-05176
Product Description
It's raining, it's pouring and you're still out exploring. Ready for extreme weather, the heavy-duty Typhoon Bag is 100% water and dust proof. It easily adapts its size to fit anything from clothes or camping supplies to the Front Runner Cub Pack or Flat Pack storage containers. Declutter the interior of your vehicle with this roof-rack ready bag that's designed to keep all your gear clean and dry while you adventure on- and off- road.

Versatile storage solution for small to large cargo
Simply roll the bag to perfectly fit the size of the contents
Free up precious interior space by attaching it to a Front Runner Rack
Scalable up to 90L (5492 in³) capacity
Expands to hold 2 Cub Pack*
Removable tray makes packing a breeze and protects the bag from chaffing when carried on a roof rack
Soft Grip side handles
Bag can be secured to the roof rack using a pair of Stratchits*
Roll-top style bag with sonically welded seams is 100% water and dust proof
Integrated air-pressure release valve for a water tight seal when rolling and sealing the bag
The IP66 rating guarantees an air-tight, dust proof seal and protection against powerful jets of water
Made with innovative heavy-duty waterfproof materials
Protects contents from sun, wind, rain, and water crossings
Durable and ready for intense continuous use
Endless storage uses from clothes and scuba gear to climbing and camping gear
Folds compact for easy storage to keep your garage clean and organized
*Stratchits, Flat Packs and Cub Packs sold separately.
Manufacturer - Front Runner
Travel. Dream. Design. Build. Test. Evolve. Repeat.
Legend has it that Front Runner was conceived between a 1988 Land Cruiser 70 and a 1992 Mercedes G-Wagen in Botswana, around a campfire, near a majestic Baobab, amongst elephant tracks, by a handful of friends from South Africa with backgrounds in engineering, design, manufacturing and off-road racing. After suffering through numerous equipment failures on their expeditions around the world, they decided to take their shared passion for vehicle based adventure travel and dream up new, smart gear and build it stronger than… well, as they put it, "stronger than the elephants at the watering hole 1 klick over."
And just like that, before the moon gave way to the sun, we were born.
With the gruelling African bush as a testing ground, we at Front Runner focused on a tough love approach to developing products. With both feet facing the future and little sentimentally for mediocre ideas of the past – common approaches to off-road vehicle product design were quickly jettisoned in favor of innovation, new materials, and superior manufacturing practices.
Today our products have a well deserved reputation (if we don't say so ourselves) for quality, intelligent design, and durability. Our manufacturing facility just outside of Johannesburg, South Africa features in house laser cutting, bending and powder coating. Our CAD designed products by a team of engineers and built by skilled craftsman in our ISO-9001 : 2015 Certified factory.
Our roof racks, water tanks, tents, awnings, drawer systems and camping accessories are enjoyed, used and abused around the world by casual campers, the U.N., overlanders, NGOs, outdoor enthusiasts and extreme athletes.
That's our origin story. Share it with your friends and family. Around a campfire. And for full effect, make sure you're sitting in our chairs, by our tents, with our roof racks on your vehicles. Just sayin'.
Need help or have a question?
Chat to us online, call our office (weekdays 9am-5.00pm) or email us and we'll get back to you!
01482 666 491