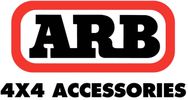 P/N: ARB3101 / JM-02150
Product Description
The ARB Rooftop Tent can be mounted to an ARB touring style rack or any flat roof bar system with 95lb kinetic load rating.

The ARB Simpson III Rooftop Tent will provide the ultimate in ease and convenience when travelling.  Unfolding in minutes, a rooftop tent provides sleeping quarters off the ground, protected from the elements.  Spacious and comfortable, all bedding can remain inside the tent during the journey, freeing up vital storage space in the vehicle, and allowing the tent to be quickly and easily packed away.
Features:
Series III Tent Incorporates an Updated Design and New Materials for Better Strength, Rigidity and Water Resistance

Manufactured from High Quality, Poly/Cotton Fabric

Incorporates Oxford Polyester Flysheet, with Excellent Water Shedding Ability

Sturdy Aluminum Retractable Ladder

High Density Bonded Chip Foam Mattress with Removable Cover for Increased Comfort and Durability

Incorporates Pull Out Veranda and Optional Zip-On Annex

Insect Screened Windows and Door

SUV Stabilised Laminated PVC Cover

Bungee Cord System to Assist When Closing

Easily Mounted to ARB's Purpose Designed Roof Rack

Can be Configured to Unfold off Either the Side (Shown) or Off the Rear of the Vehicle

Size:
55" (1400mm) wide x 94.50" (2400mm) long x 51" (1300mm) high

All Aluminium Components Feature an Anodized Finish for Improved Corrosion Resistance and Apperance

Comes Complete with Mounting Hardware, Wrenches, Ladder, Travel Cover and Comprehensive Instructions

ARB Awnings can Also be Paired with the Rooftop Tent.

Manufacturer - ARB
ARB is Australia's largest manufacturer and distributor of 4x4 accessories. ARB have an international presence, with an office in the US and an export network that extends through more than 80 countries around the globe. ARB philosophy, however, has never wavered from its original course – quality, reliability and practicality above all else.
ARB's range of 4WD accessories has been specifically designed to suit your vehicle and ensure you're prepared for any off road adventure you choose to take on. All ARB products are tested to the highest standards and subject to a comprehensive minimum two year warranty, ARB deliver exceptional quality and service giving you piece of mind.
Need help or have a question?
Chat to us online, call our office (weekdays 9am-5.00pm) or email us and we'll get back to you!
01482 666 491