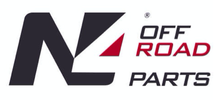 P/N: N4-BLAV84A / SC-00252
Product Description
Fits:
Suzuki Jimny (2018+) with N4 Bumper PN: N4-PC005
8mm alloy front skid plate, attaches to N4 Bumper to complete look and provides serious protection for steering components. 
Manufacturer - N4 Off Road
N4 Off Road is a provider for off road solutions, design and manufacture skid plates, navigation instrument mounts, winch mounts, bumpers, protection rails, recovery straps for a number of 4x4 brands with an ever increasing range.
All products are tested and follow a very strict quality control aiming at finding the best compromise between off roading performance improvement and protection for the vehicle.

Need help or have a question?
Chat to us online, call our office (weekdays 9am-5.00pm) or email us and we'll get back to you!
01482 666 491